GOTO Berlin is a vendor independent international software development conference with more that 60 top speaker and 400 attendees. The conference cover topics such as Java, Open Source, Agile, Architecture, Design, Web, Cloud, New Languages and Processes.
GOTO Night: Micro Services - Smaller is Better?
When: 20. Jan 2015 at 19:00 - 22:00
Where: Kosmos, Karl-Marx-Allee 131a, 10243 Berlin (entrance: right hand site of the building!)
Abstract
We invite you to an interesting GOTO Night with
Eberhard Wolff
Date January 20, 2015
Cost Free of charge
Snacks & refreshments included
Speaker Eberhard Wolff
"Micro Services - Smaller is Better?" by Eberhard Wolff
Abstract:
Micro Services are the latest attempt to improve software development: Dividing a system into small services has many advantages - thanks to faster deployment and better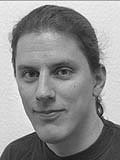 modularity new features can be be brought to market quicker and more easily. However, at the same time new challenges arise: Micro Services are complex distributed systems. Managing the architecture of a large number of Micro Services is hard - - and best practices like code reuse become nightmares. This talk dives into the benefits and challenges of Micro Services.
Bio:
Eberhard Wolff is a freelance consultant and trainer. He is a regular speaker at several international conferences, author of over 100 articles and several books. He member of the program committee of conferences like GOTOcon Berlin and microXchg - the leading Micro Services conference.
Twitter: @ewolff
You can download the presentation as PDF here
Registration
For any questions do not hesitate to contact Dajana Günther.
Remember to cancel if you are unable to come. In case you need to cancel your registration, please contact: Dajana Günther, no later than January 19 at 9:00 AM. Please notice that we have a no-show fee of EUR 50,- so please cancel your registration if you cannot attend.
When registering GOTO Night's or Free meetups through Trifork you also accept to receive our relevant newsletter with upcoming events and news.
We're sorry, registration is closed