GOTO Berlin is a vendor independent international software development conference with more that 60 top speaker and 400 attendees. The conference cover topics such as Java, Open Source, Agile, Architecture, Design, Web, Cloud, New Languages and Processes.
Workshop: Green Field & Legacy Code Retreat
Host: Eberhard Wolff, Martin Klose
When: 27. Sep 2014 at 09:00 - 18:00
Where: Mülhauser Str. 6, Hofgebäude, 1. OG, 10405 Berlin
Abstract
We invite you to an interesting Workshop with
Eberhard Wolff and Martin Klose
on behalf of GOTO Berlin.
Date September 27, 2014
Time 9:00 - 18:00 / 9 AM - 6 PM
Venue Werkstatt Thoughtworks
Address
Mülhauserstr. 6, Hofgebäude, 1. OG, 10405 Berlin (
where!?
)
Cost Free of charge
Lunch & refreshments included
Trainer Eberhard Wolff, Martin Klose
Green Field and Legacy Code Retreat
Abstract:
This workshop covers essential skills for productive Software Development. It is hands on, highly interactive - and will make you a better programmer!
We will practice Test-driven development (TDD), Pair Programming and Refactoring. In the first part we will apply these techniques to a green field project. Later on we will learn how to apply them effectively on legacy code, too. The workshop is programming language agnostic.
You will need your own laptop with an installed development environment (IDE, unit testing framework) and source control (e.g. git).
Schedule:

9:00 Doors open
9:30 Intro
9:45 Session 1
10:45 Session 2
11:45 Session 3
12:45 Lunch
13:45 Session 4
14:45 Session 5
15:45 Session 6
16:45 Retro
18:00 Doors close
In between the sessions we will have short breaks.
Bio Eberhard Wolff: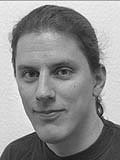 Eberhard Wolff is one of the initial 20 members of the Java Champions, and author of three books including the first German book on Spring.
Currently, Eberhard is working as a freelance consultant, architect and trainer. He is also head of the Technology Advisory Board for adesso AG. He is currently interested in Continuous Delivery and technologies such as NoSQL and Cloud.
As well as a published author, Eberhard is a regular speaker at international conferences and author of several articles.
Links:
Bio Martin Klose:
Martin Klose is a passionate software craftsman who likes to run CodeRetreats, and has been involved as staff or a speaker at some of the biggest Agile and Java events in Europe: including ALE, SoCraTes, JAX and GOTO.
Co-founder of klosebrothers.de - an IT consultancy he runs with his brother, Martin previously worked as a developer for Siemens Business Services and the Software Quality Lab.
Martin is especially interested in software quality and he likes his code well tested so he can sleep better at night. He holds a degree in Informatics from the University of Paderborn and also studied Computer Science at the Wroclaw University of Technology.
You can download the pictures of the flipcharts here.
Win a ticket to
GOTO Berlin
We will raffle one ticket to GOTO Berlin amongst all participants of the Code Retreat on site.
Registration
For any questions do not hesitate to contact Dajana Günther.
We're sorry, registration is closed