GOTO Amsterdam (June 17-19, 2015) is a vendor independent international software development conference with more that 50 top speakers and 500 attendees. The conference covers topics such as AngularJS, Disruption, Docker, Drones, Elasticsearch, Hadoop, Microservices & Scrum.
When: 4. Oct 2013 at 18:00 -
Abstract
GOTO Night with Jez Humble
We invite you to a GOTO Night on behalf of
GOTO Amsterdam

.

Date Friday, October 4th, 2013
Time 18:00 / 6PM
Venue/Host Trifork
Address Rijnsburgstraat 9-11, Amsterdam

Costs Free of charge
Pizza & refreshments included
Speakers Jez Humble

"Lean Enterprise" by Jez Humble
Abstract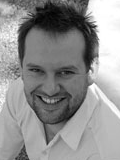 Large organizations are notoriously bad at disruptive innovation involving software. This is primarily due to cultural and organizational issues, combined with poor architecture a lack of good engineering practices. In this presentation Jez will take a scientific approach to innovation in software development, using examples from organizations such as Amazon and HP.
Jez will begin by discussing the fundamentals of innovation, using the lean startup methodology. He will then tackle organizational barriers to innovation: traditional project management practices, silos between departments, and reporting structures. Good engineering practices are crucial to rapid delivery of high quality software, and so Jez will discuss the importance of continuous delivery to teams working on strategic software projects. Finally he will discuss software portfolio management and how compliance and governance can be managed effectively while still delivering valuable software.
Short Bio
Jez Humble is a Principal Consultant with ThoughtWorks, and author of Continuous Delivery, published in Martin Fowler's Signature Series (Addison Wesley, 2010). He got into IT in 2000, just in time for the dot-com bust. Since then he has worked as a developer, system administrator, trainer, consultant, manager, and speaker. He has worked with a variety of platforms and technologies, consulting for non-profits, telecoms, financial services, and online retail companies.
Since 2004 he has worked for ThoughtWorks and ThoughtWorks Studios in Beijing, Bangalore, London, and San Francisco. His focus is on helping organisations deliver valuable, high-quality software frequently and reliably through implementing effective engineering practices in the field of Agile delivery. He also serves as Product Manager for Go, ThoughtWorks Studios agile release management platform. He holds a BA in Physics and Philosophy from Oxford University and an MMus in Ethnomusicology from the School of Oriental and African Studies,University of London.
If you have any questions or have to cancel your registration, please don't hesitate to contact Daphne Keislair at daphne.keislair@trifork.nl
Registration
We're sorry, registration is closed