GOTO Amsterdam is a vendor independent international software development conference with more that 50 top speaker and 500 attendees. The conference covers topics such as Java, Open Source, Agile, Architecture, Design, Web, Cloud, New Languages and Processes.
When: 14. Oct 2013 at 18:00 -
Abstract
GOTO Night with Bas van Ooyen and Michael T. Nygard

We invite you to a GOTO Night on behalf of
GOTO Amsterdam

.

Date Monday, October 14th, 2013
Time 18:00 / 6PM
Venue/Host Trifork
Address Rijnsburgstraat 9-11, Amsterdam

Costs Free of charge
Pizza & refreshments included
Speakers Bas van Ooyen and Michael T. Nygard
"Machine translation in production environments" by Bas van Ooyen
Abstract

Machine Translation is a very active field of research. Commercial use is so far mostly restricted to the giants of the industry. The most prominent open source tool in Statistical Machine Translation is Moses, which is in use and funded by the European Union. What is lacking so far, is an open source tool that is ready for deployment at scale by commercial users. I will discuss the way Owlin is dealing, and intents to deal, with this unsatisfactory state of affairs.
Short Bio
Bas van Ooyen is co-founder of Owlin.com. Owlin is a realtime news analysis service, focussed on the financial sector. Bas is responsible for the back-end and natural language processing. Together with research scientists he applies the latest algorithms to identify breaking news.
As an autodidact Bas learned himself pretty much everything. He already started companies before he was graduated in computer science.
He's a contributor to several large open source projects and is currently working on CoreMT, an open source machine translation system.
"Five Years of DevOps: Where are we now?" by Michael T. Nygard
Abstract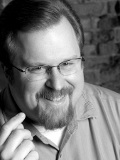 It has been five years since Patrick Debois coined the term DevOps to describe a way of working together to deliver systems. In that time, we have rediscovered some gems from the past and we have invented new techniques and tools. In this session, we will take a look at what's new in the world of DevOps, what's old-but-good, and where we still need to advance.
Short Bio
Michael Nygard has written and co-authored several books, including "Release It!", "Beautiful Architecture", "97 Things Every Software Architect Should Know" and "Java Developer's Reference".
An expert in highly-available, highly-scalable commerce systems, Michael has been professional programmer and architect for over 15 years. In that time, Michael has delivered systems to the U.S. Government, the military, banking, finance, agriculture, and retail industries.
If you have any questions or have to cancel your registration, please don't hesitate to contact Andy Knobel at ank@trifork.com
Registration
We're sorry, registration is closed